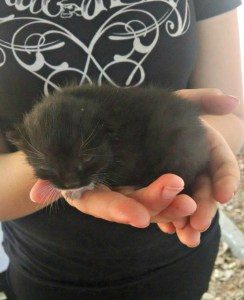 It has come time to introduce our newest arrival in the Baca house; it seems like life is ever-changing for us. There was barely a week in which to grieve over the loss of our beloved tabby, Toby, when the husband came home with a newborn kitten abandoned by her mom, found her at the shop where he and his best friend tinker on their toys. On a Friday night no less, with the pound closed for business for the night, it seemed that the tiny black and white, ball of fluff, no bigger than a hand, tuxedo colored, American short hair, was barely three days old was destined to live with us.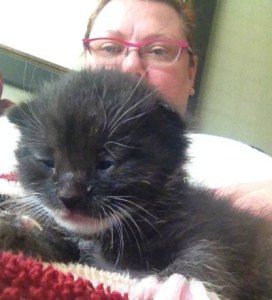 I had to learn the joys of young kitties in a crash course on the Internet and some wonderful friends. Bottle feeding a newborn kitten is not nearly as easy as one would like you to believe, not to mention an unbelievably exhausting experience, getting up every couple of hours to feed her.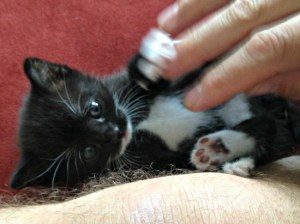 The first thing the following Monday morning, she had her first doctor visit. The excellent doctors at Beckwith Veterinary hospital gave her a good bill of health and agreed that she had to be just five to six days old as her ears were beginning to unfold, and her eyes had started to open that morning.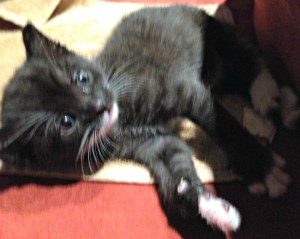 I called her the Fluffer Nutter for the first couple of weeks or so, as I was afraid actually to name her until we knew that she would survive. The mortality rate for newborn kittens, especially those not being reared by their mothers is extremely high.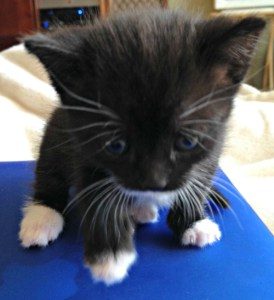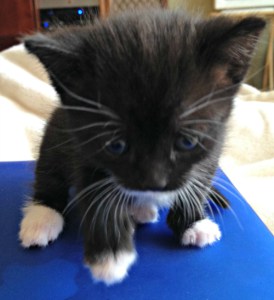 By week three we had to admit she was thriving, and it was time to give her a name. I told him that I wanted to give her a name that represented what a fighter and trooper she was turning out to be. After much thought and the fact that I'm missing my father more as the holidays approach, I chose a name that he would have approved of. It would have made him smile.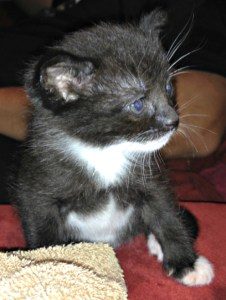 Coming from one of our favorite books, the Amelia Peabody series by the late Elizabeth Peters (Pen Name), I decided to name the "Fluffer" Peabody.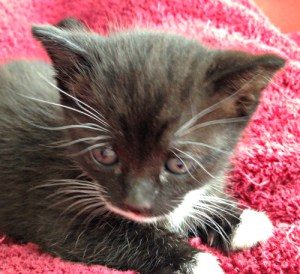 She is an ornery little thing, very curious, and certainly vocal, so the name does apply. Toby would have loved her, and probably snuggled down with her immediately. Patches hisses at her and the dogs are very curious about the squeaking noises that come from her, as those happen to be their favorite toys to chew on. Needless to say, it's been interesting.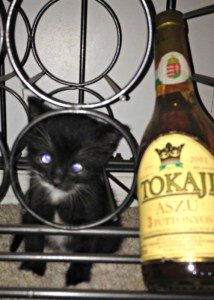 Now we are at the stage of introducing solid foods, and potty training. It has been a long and exhausting few weeks, and we figured it was time to introduce her to the world now that she's a month old and here to stay.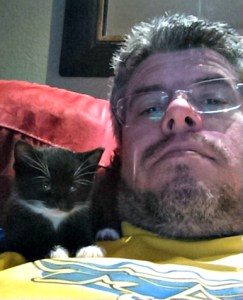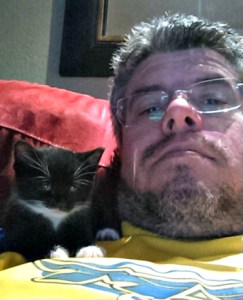 We also wanted to say thank you to our dearest friends who helped get us this far. Matt and Suzanna Jackson for coming over on day one to show me some basics on how to feed her and help her potty. To Marie and Ozzy Moreno, who were the first to babysit her for us so that we could attend a charity dinner, and of course to Jennifer Kayser who while visiting, kept the husbanding company and fed the little one her two am feeding while I crashed. I am forever grateful for that extra couple of hours of sleep.