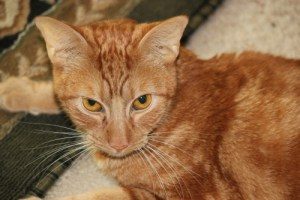 On August 24th, 2014 during a trip to PetSmart to pick up some supplies for Scrambler and Shadow to accompany Jeremy on the annual men's hiking trip, they happened to be having an adoption day. We peeked our head in, and I fell instantly in love. An Orange Tabby cat caught my eye. He had such a sweet disposition, sticking his paw out of his cage to reach out to me. When the organizer took him out and handed him to me, he curled himself into a ball at my neck and purred like I'd never heard. We joked that he had a Hemi under his hood! He fit perfectly. When I handed him to Jeremy, he did the same thing. It sealed it for me. He had chosen us, and I knew I had to convince my husband of that somehow.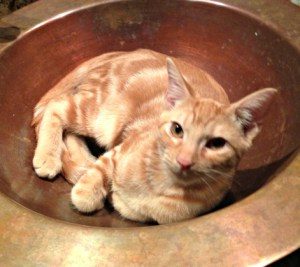 In more than 12 years of marriage, I had never dug my healed in and guilted my husband about anything like I did about this cat. He wasn't a kitten at that point as he was almost four months old. But he was precious, and I wanted to bring him home. I can't explain the pull, only that it was stronger than I'd ever felt. Instinctively I knew I needed him, as much as he needed me.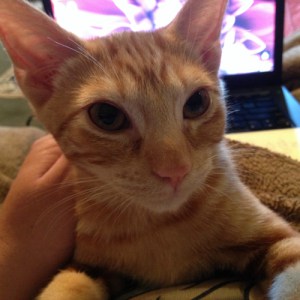 It took me an hour to convince my husband. Seriously a full time. Of begging, of following him around both the pet store and then the grocery store, of telling him how much we needed to take this cat home.
I have never regretted that decision. Toby fit into our lives so easily, even though the timing was not ideal. We had just inherited a Pug a month before, and already had two labs and another cat, but Toby came into our lives, and it was kismet.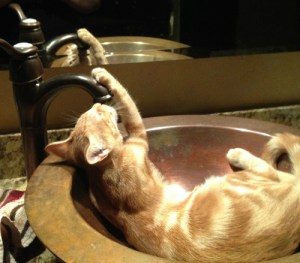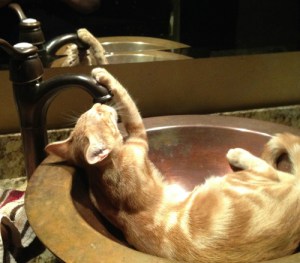 Toby and Tank the Pug became instant friends. Chasing each other up and down the hallway, snuggling together on the couch. Watching them was heartwarming. Our Calico Patches wasn't interested, and the two labs were content. But Pug and Toby were different.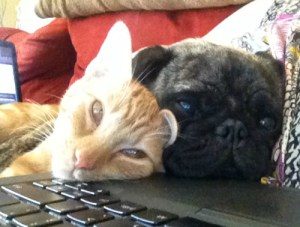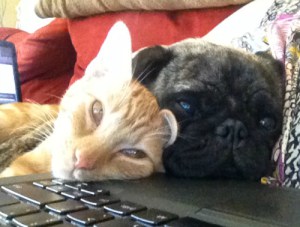 Toby had the best personality; I considered him to be more of a puppy than a kitten considering how loving and snuggly he was. He slept on my bed, sometimes at the foot, sometimes at the head, putting his paws in my hands as we slept.
Toby somehow filled the void left by family members that choose to abandon us, and alienate us from their life. He lay in my lap as I received the news that my father had passed away, and I cried in my husband's arms. He snuggled in my arms as I accepted the idea that the Pug would be better off given away to a family with children, and another pug to play with. He snuggled with me as I cried my way through my father's missed 59th birthday. He kept me going, in his gentle, loving way.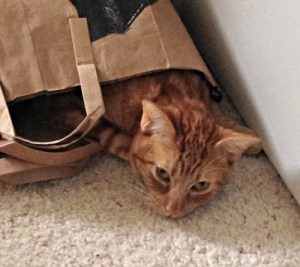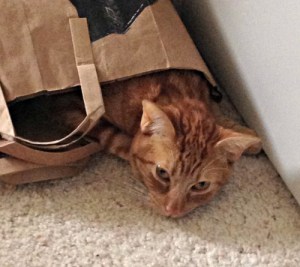 So it's without saying that when our Vet told us, Toby had the FIP virus or – Feline Infectious Peritonitis virus, that it had mutated, and that it was a death sentence, I was shocked. With his loss of appetite, and of course the subsequent weight loss, jaundice and the test results, the doctor told us that he had mere weeks to live. Dr. Mike of the Beckwith Veterinary Hospital was compassionate and caring as he explained that this is a common issue with animals rescued from large-scale adoption organizations, or catteries. When animals are kept in massive clusters they can easily contract and spread illnesses. Some stay in their bodies and mutate later causing them to become ill.
Losing my father devastated me, but losing Toby shattered was left of my already broken heart. Toby was barely a year and a half years old. I had him for just over a year. After waiting for three days for the final test results to come back, for the doctor to give his official diagnosis, though he had made it clear from the moment he saw Toby that his concerns were worst case scenario. The test results just confirmed what the doctor had already suspected. His results were so severe that the lab re-tested them twice to be sure, that's why it took them three days to come back.
We arranged a time with Dr. Chad and said our goodbyes. Toby had already lost so much weight and was not eating or drinking, so we agreed not to let Toby suffer any longer.
Rest in Peace Toby. You were loved and you will be missed. And when you wake back up you'll be in animal heaven making new friends like you did best.